I recently got this email about the problem of people-pleasing and avoiding conflict:
Yo!
I read ur article about fear of conflict and laughed hysterically. Ure fkn brave man! I like ur eastern take on things too where ure aware and u breathe n things. I recognize me being a people-pleaser too and I'm shitless afraid confronting people and coming into conflict. How do i go about it? Do I just do it? How do i do it if the other part is childish and runs from u like a scared little bitch? I want to please everyone but inside i know i HAVE to come into conflict cus i cant escape it. I have to let others know when they're being retarded. I focus too much about making others happy n i cant see em sad. Is this wrong? I think its good to be this compassionate and nice but the more i read up on it somethings telling me this kind of people pleasing is bad for u and ur future. and others?"!?!?! But isn't that another layer I'm adding to it? Stopping people pleasing to please others even further?!?! SO FUCKED UP. WHATS THE POINT OF LIVING WITHOUT VALIDATION and ATTENTION OUTSIDE YOU. FUUUCK. SEEELF IMAGE WHAT THE FUCK IS THIS SHIT. WHATS THE PURPOSE of FKN LIFE?!?!
I hear your anger and frustration. This sounds like a classic example of how obsessive people-pleasing and avoidance of conflict undermines your sense of self to the point where your life seems meaningless without external validation. Here's how to fix it: [caption id="attachment_3014" align="alignright" width="300"]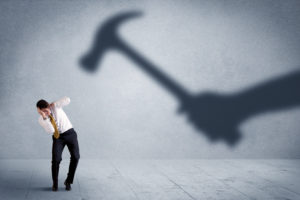 Obsessive people pleasing and avoidance of conflict will eventually crush you.[/caption] At the core of people-pleasing behavior is
anxiety
, most likely anxiety about being abandoned or unloved. My guess is that you're afraid that you won't survive physically or emotionally without the approval of people around you. The way to tackle this fear is to stop seeking other people's approval, build a life that is meaningful for you even without external validation and discover that you not only survive; you thrive. The big irony here is that the less you seek other people's approval, the more likable you will become to most people in the long run. That sounds great in theory, but the only way to really discover it for yourself is to take the journey yourself; and since the biggest impediment to doing this is the anxiety, that's what I'm going to focus on.
(more…)