I often meet parents whose adult children who are suffering from a mental illness such as anxiety, depression or anorexia, or who are suicidal. When I hear these parents talk about how they're dealing with this situation, they often appear very stoic. They say things like "I need to be strong in order to support my son", or remark that "I've told them that they are very strong".
At the same time, I often notice my own feelings of emotional disconnection around these same parents during our interactions. They often talk a lot about themselves in great analytical detail but without much real emotional engagement, and rarely ask me about my own life or how I feel.
[caption id="attachment_3249" align="alignright" width="300"]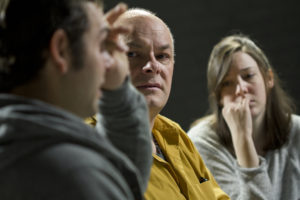 Empathy is the key to helping your adult child with a mental illness[/caption]
I sense that they're avoiding something in our conversations: a sense of emotional connection.
Unfortunately these behaviors are exactly the opposite of what a person with a mental illness needs in order to feel the sense of emotional safety, love and support that could potentially heal their brain and help them through a time of deep crisis.
While all parents instinctively love their adult children, mentally ill people need to be surrounded by love and support that they can actually feel.
This means being empathic rather than being stoic.