I grew up in a family where emotions weren't expressed cleanly; especially challenging emotions like anger. Everyone feels angry from time to time, but growing up I got the sense that there was something wrong with this basic human emotion because nobody talked about it. My parents never seemed to say directly that they felt angry; but it was obvious when they were and their anger came out in ways that I found very frightening and destructive. [caption id="attachment_2943" align="alignright" width="300"]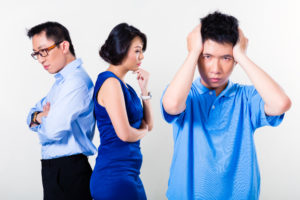 It's OK To Be Angry With Your Parents[/caption]
Everyone around me seemed ashamed of their anger. Over time, I learned to feel ashamed of my anger too. I denied, suppressed and internalized it as though I was doing something righteous and noble. But the repressed rage built up inside me until eventually as an adult I developed overwhelming anxiety, panic attacks, depression and even a physical illness.
This forced me to wise up and realize that there was nothing noble about denying my anger. But with poor role models for expressing anger constructively in my family of origin and in society at large, who was I to turn to for help?
My answer came in the form of enlightened therapists who understood that anger is a perfectly normal emotion whose purpose is to motivate us when our needs aren't getting met. A powerful energy that needs to be channeled and expressed constructively; not internalized, denied, suppressed or misdirected.